Specialty
Emergency Physician & Trauma Consultant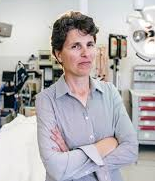 Biography
BSc MSc MBBS FACEM
Emergency Physician and Trauma Consultant - Alfred Health
Helen was undertaking a Master of NeuroScience in 1988 (she is a Claustrum expert) when she was encouraged to complete a Medical Degree in order to continue in Medical Research.
Post graduating from the University of Melbourne Helen completed contrasting roles including spending time as a Psychiatry trainee before commencing training in Emergency Medicine at The Alfred in 1998.  Helen worked at The Northern Hospital Emergency Department from 2004-2010 including as ED Director 2007-2010.  BushFires and Flu remain sentinel experiences from The Northern.
A return to The Alfred provided myriad Clinician-Manager responsibilities. In 2015 Helen commenced in the role of Trauma Consultant - "impressive, fascinating, humbling, a privilege" is how Helen describes a typical day on the Trauma Service.
Since 1988 Helen has been passionately involved in Education across many platforms.  Previous Students are now Consultants with flair.
Helen is animated by Human Factors in the acute clinical setting.  Trauma in the Older Patient is of increasing interest to Helen – it may even facilitate a return to Medical Research.
"Change is the Only Constant" (Heraclitus) continues to be a theme across Helen's professional life.