Specialty
General Practicioner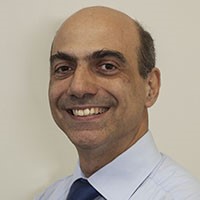 Biography
George Stabelos has 22 years experience in the Health Care sector and currently consults as a Medical Practitioner (GP) at the Valewood Medical and Occupational Health Clinic, a multidisciplinary centre in Mulgrave, Melbourne, Australia. He completed his degrees in Medicine and Surgery at The University of Sydney in 2005 and has a special interest in family medicine, musculo-skeletal pain and sports medicine and is a Fellow of the Royal Australian College of General Practitioners. He is also a qualified Chiropractor and has qualifications in Occupational Medicine,  Exercise and Sports Science and Acupuncture.
George's parents  originated from the Islands of Kastellorizo and Chios in Greece and from  Cesme in Asia Minor.
He has been involved in community group and other committees since the age of 15. He believes that in addition to utilising our training and qualifications in our respective professional and other fields, we can  make a positive contribution to society by employing these skills to collectively benefit and build communities. Similarly, to value other peoples' strengths and learn from them. His vision for HMSA is to see the development of a world class organisation with tangible benefits for all members and the wider community, where in teaming with others we can create better solutions than any one of us alone.